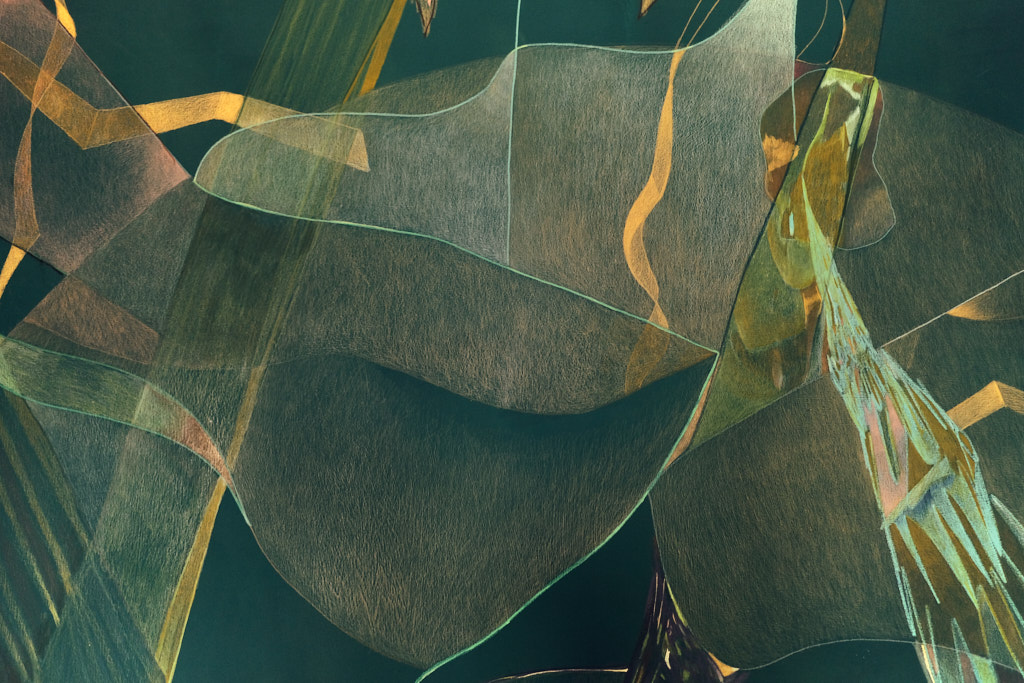 Diplopia III, crayons de couleurs sur papier marouflé sur toile (détail)
230x180 cm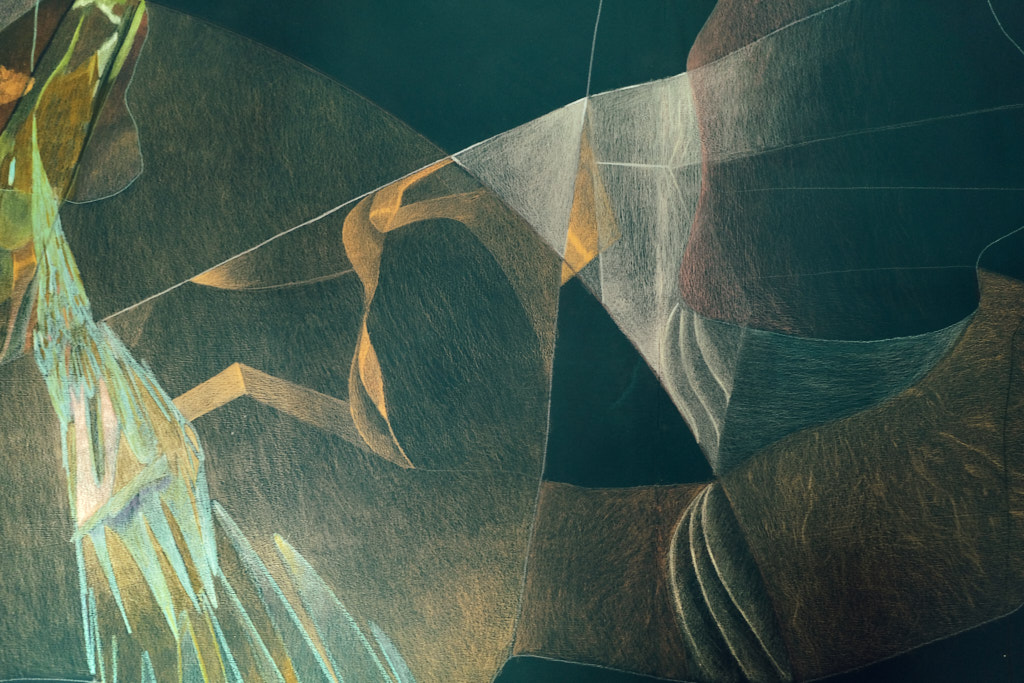 Diplopia III, crayons de couleurs sur papier marouflé sur toile (détail)
230x180 cm
Diplopia III, crayons de couleurs sur papier marouflé sur toile - vue de l'exposition
230x180 cm chacun
Jungle, Diplopia III
The painting becomes a meeting place where small stories take place. During the first confinement I deliver an interpretation of the tale of Horacio Quiroga the Pillow of Feathers and I remember the blue of my alpargatas as well as the color of my own blood, then from color to color, I see some animated films of Oskar Fishinger and the sequence of the forest of Snow White and the Seven Dwarfs that I thought was of him. The Korda brothers through a set of prisms revived my memory and my childhood joy at the sight of this world in Technicolor and this lush jungle recreated from scratch in the studio. I take colored pencils, the tool closest to childhood and I chain the shapes between the torrents of colors and the changing elements that contrast on the gouached canopy of an emerald forest. Paintings to discover from February 5 to September 12 at the Botanical Garden of Bordeaux.
Images from the film Jungle Book, Zoltan Korda (1942)
Images from the film du film Jungle Book, Zoltan Korda (1942)
Images from Snow White and the Seven Dwarfs, Walt Disney (1936)
Diplopia III
Dyptych can be seen from february 5th until the 12th of septembre 2021 at the Botanical Garden Bordeaux
with the artists Carine Blouet, Patrice De Santa Coloma, Francine Delmer, Claire Harel, Marie-Madeleine Lacoste, Jeannette Leroy, Catherine Pomparat, Nathalie Portejoie and Catherine Quignard.